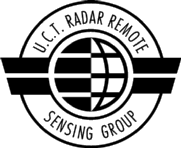 Introduction
1988 - 2009
21 Years of Remote Sensing in Africa!

RRSG's Homepage

Members

Projects

Theses
Background
Progress in Space Science over the last 40 years has been spectacular. Advanced satellite technology has in turn spawned remote sensing technology, allowing observation of the Earth from space using a wide range of sensors. Satellite Remote Sensing has become an indispensable tool in man's quest to understand global ecology before we manage to inflict too much damage.

A brief survey of Remote Sensing literature shows that radar remote sensors are developing as an important contributor to the field of Remote Sensing. For example, the annual IGARSS Conference Prospectus shows that nearly half the papers being presented are related to radar or microwave sensors and results obtained from them.

The Radar Remote Sensing Group at UCT has been operating since 1988. It receives its funding entirely from contract research from Industry and postgraduate busaries from the NRF (National Research Foundation).

The group was founded by Prof. Michael Inggs when he joined the staff of the Department of Electrical Engineering, University of Cape Town, in 1988, after 15 years working in the radar and communications industries in South Africa, United Kingdom and United States of America.
Aims of the Group
The aims of the Radar Remote Sensing Group are to develop advanced sensors utilising radar technology for the user community. This is seen as an iterative process which involves the radar technology experts, as well as the users.

Part of this process is providing education to the user community to bring them to a level of understanding of radar technology which will allow them to utilise the technology efficiently in their fields of expertise.

Finally, the RRSG sees itself as a technology consulting group which can support the remote sensing community in terms of the underlying signal and image processing technology (hardware and software) utilised in their specialisations.

Return to RRSG's Homepage

The content of this page was last updated in February 2009 (RL)